Mojacar Bowls Club
(Est 2014)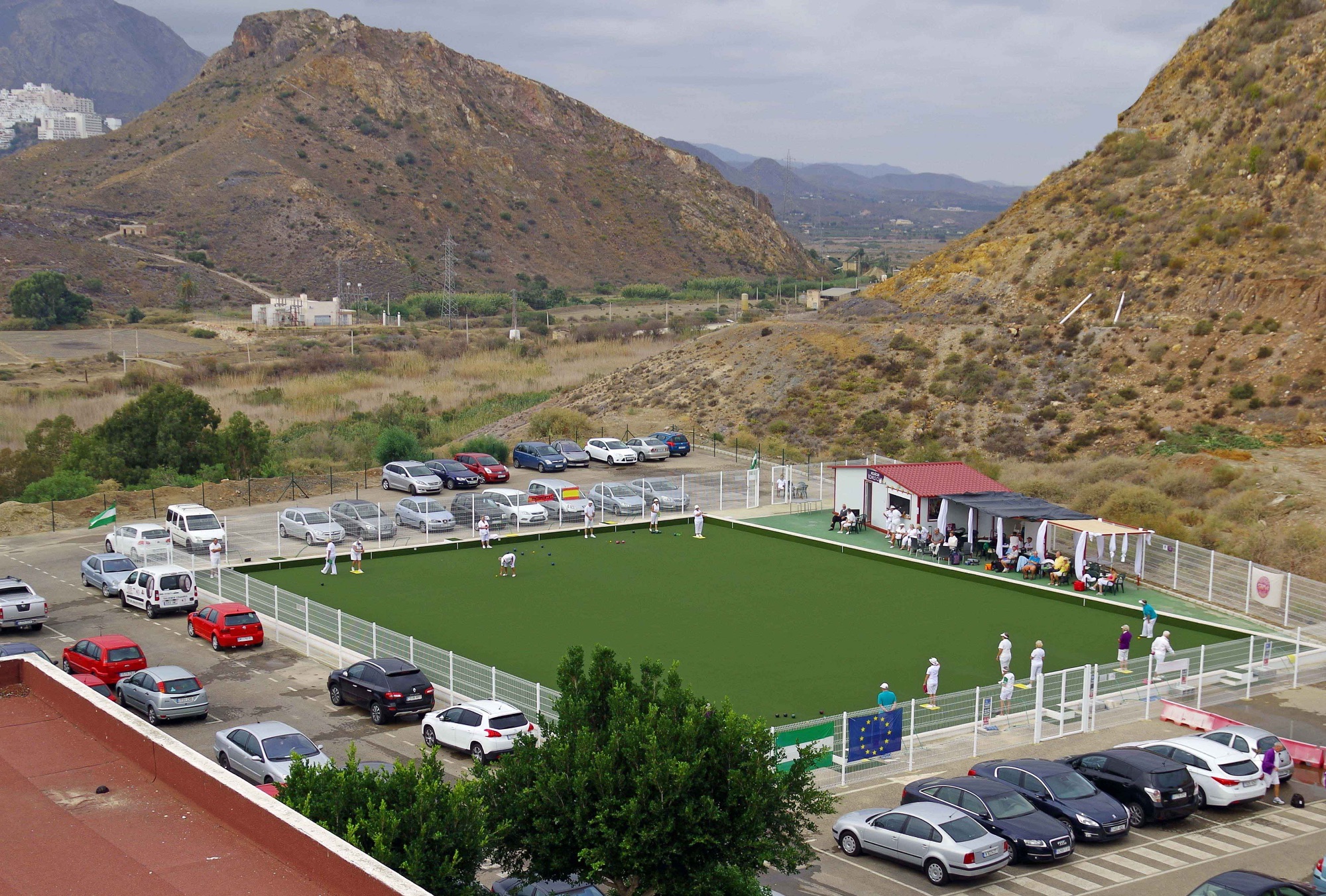 Flat green bowling is a very popular sport that is played the World over and enjoyed by all ages and abilities.
If you have never tried it and would like some gentle exercise with like minded people, then why not come along for a chat and light refreshments in the comfort of the excellent facilities available, either on a Tuesday,Thursday or Saturday morning, give it a try and discover the enjoyment to be had from Bowls.
If you are interested in joining our Bowls Club, please use the reply form on the Contact Us Page.

Our coach will give you three free lessons (by prior arrangement) to get you started.
Our bowling club rollup mornings normally start at 09:30 for 10.00 unless ammended to take account of seasonal weather conditions.
We welcome day visitors, visiting clubs & touring teams who may wish to come and play at our club, its a great way to keep fit and socialise.
Visitors new to the Sport of bowls or as experienced Bowlers, are always made very welcome at our Bowls Club.
Club Contact: 634 315 908
~~~~~~~~~~~~~~~~~~~//~~~~~~~~~~~~~~~~~~~~
Directions to Mojacar Bowls Club:
Travelling along the AL-5105 from Mojacar towards Garrucha, cross over the Rio Aguas bridge and then turn left at the junction adjacent to the Hotel Marina Playa and other Hotels (A small signpost is positioned on beach side of road pointing to Mojacar Bowls Club).
Continue up the hill for approximately 200 metres, the Mojacar Bowls Club is situated behind the ServiGroup Hotel Marina Mar.
We are the only bowling club located in Mojacar.
GPS co-ordinates: N 37.15690. W -1.83058
~~~~~~~~~~~~~~~~~~~//~~~~~~~~~~~~~~~~~~~
Hotel accommodation
Special accomodation rates are available for visiting bowlers at the nearby Sevigroup Hotels; Marina Mar and Marina Playa.
For Information & Bookings (+34) 965 855 900 / From UK: 0845 094 2449
Hotel Marina Mar: (+34) 950 548550. [email protected]
Hotel Marina Playa: (+34) 950 548500. [email protected]
~~~~~~~~~~~~~~~~~~~~//~~~~~~~~~~~~~~~~~~~